C. Octubre, 2014.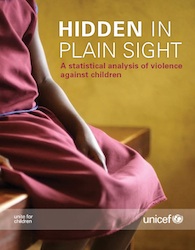 Institutional author: UNICEF
This report represents the largest-ever compilation of data on the subject of violence against children. It sheds light on the prevalence of different forms of violence against children, with global figures and data from 190 countries. Where relevant, data are disaggregated by age and sex, to provide insights into risk and protective factors. This groundbreaking report concludes that interpersonal violence, in all its forms, has a grave effect on children:  violence undermines their future potential; damages their physical, psychological and emotional wellbeing; and in many cases ends their lives.
Summary:
One in 10 girls worldwide have been forced into a sexual act, and six in 10 children aged 2 to 14 are regularly beaten by parents and caregivers, according to a report issued Thursday by the United Nations children's agency, Unicef. The report paints a picture of endemic physical and emotional violence inflicted daily on children, mostly at home and in peacetime rather than on the streets or in war. Homicide is especially common in some of the Latin American countries from which children are fleeing by the tens of thousands into the United States: It is the leading killer of adolescent boys under age 20 in El Salvador, Guatemala and Venezuela. Central and Eastern Europe report the lowest rates of homicide among children. Over all, war accounts for a small share of violence against children. But during conflicts and other humanitarian crises, domestic violence against adult women and children rises measurably, according to the authors of the study.
Source: http://www.unicef.org/publications/index_74865.html
Spanish version:
http://www.unicef.org/publications/files/Hidden_in_plain_sight_statistical_analysis_Summary_SP_2_Sept_2014.pdf